Exhibition of a new body of work in Sydney, 27th August – 28th September 2014.
DRINKS WITH THE ARTIST, SATURDAY 6 SEPTEMBER 2014, 3-5PM.
SPOT81
81 Abercrombie St, Chippendale, Sydney NSW 2008 Australia
Gallery hours: Wed – Sun 11am-5pm.
t: +61 2 9690 0655 | 0410 426 886
CLICK HERE to view the exhibition catalogue.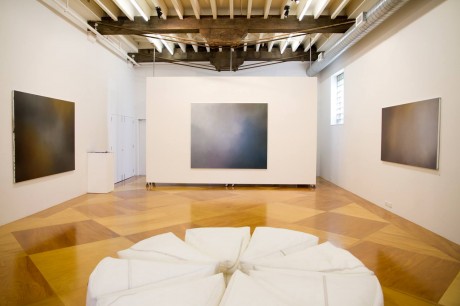 "We are asleep, our life is a dream. But we wake up, sometimes, just enough to know that we are dreaming." – Wittgenstein.
As an artist, I keep returning to the central idea from Kandinsky's seminal text, Concerning the Spiritual in Art: the necessity for an artist's ongoing search for truth, for meaning, and for the exploration of the human condition.
Pure abstraction is a language through which we can transcend the materialistic realities, and find the silence and the sublime space, to explore our own inner landscapes. My paintings are made with the intention of creating such a sense of space, and to invite the viewer to converse within.
This body of work is about the liminal state between sleep and wakefulness; a state in which the subconscious is most prominent, and our deepest yearnings and fears come to light.